Synod on Demand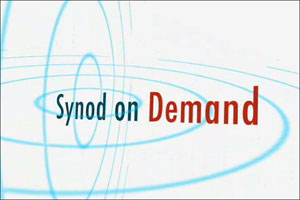 Anglicans from across Canada and around the world will be watching General Synod 2007 live by web stream. For more coverage and analysis, viewers can check out "Synod on Demand", a daily analysis piece hosted by Tim Morgan of Winnipeg. Featuring interviews, synod highlights, and commentary by Tim and others, "Synod on Demand" is a must-see for General Synod followers.
Please e-mail your comments and questions to [email protected].
Latest episode:
Episode Eight: Monday, June 25th
If you are having problems viewing this video, please visit our help page, or you can view this video on YouTube.
Previous episodes, all on YouTube:
---