Archbishop Michael Peers
The Most Reverend Michael Geoffrey Peers is Primate of the Anglican Church of Canada. He was born in Vancouver in 1934 and although he wasraised in the Anglican Church, he left it during his teenage years.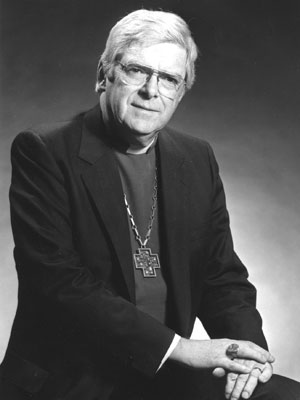 Archbishop Michael Peers
His return to the Church while at university was a significant turning point in his life: "I went back to church for the simple reason that a friend of mine invited me," he notes, "and that's how most people become involved in church." In his case, the involvement led to divinity studies at Trinity College (Toronto) from which he graduated with a Licentiate in Theology in1959.
Prior to attending Trinity College, Archbishop Peers received an interpreter's certificate for German-English translation from the University of Heidelberg (1955) and a Bachelor of Arts (honours) in Slavic Studies from the University of British Columbia (1956). He hasreceived numerous honorary degrees over the years, including a doctorate in 1988 from the University of Kent (Canterbury).
Michael Peers was ordained as a priest in the Diocese of Ottawa in 1960. He has served the Anglican Church as university chaplain (Ottawa,1961-1966), parish priest (Winnipeg, 1966-1974), Dean of Qu'Appelle (Regina, 1974-1977), Bishop of the Diocese of Qu'Appelle (1977-1986),and Metropolitan of the Province of Rupert's Land (1982-1986). He was elected to the office of Primate by the 31st General Synod held in Winnipeg in 1986.
As Primate, Archbishop Peers brought a special concern to encourage greater inclusiveness in the life of the church and to address major issues facing Canada and the world from a Christian perspective.
By virtue of his position, Michael Peers was also President of the Metropolitan Council of Cuba, providing a personal link between the Cuban Episcopal Church and the rest of the Anglican Communion.
Archbishop Peers is fluent in French, German and Russian as well as English. At the 1988 Lambeth Conference at Canterbury he convened a historic first meeting of French-speaking Bishops and was the first to preside over meetings of the Lambeth Conference in a language other than English. Archbishop Peers is known as astrong supporter of ecumenism and during the 1990s served on the Central Committee of the World Council of Churches.
Michael Peers is married to Dorothy Elizabeth (Bradley); they have three grown children and two grandchildren.
Links:
Report of the Primate's Task Force on Adequate/Alternate Episcopal Oversight for Dissenting Minorities
posted on Mar. 4, 2004
Speech given to the Empire Club, January 21, 2004
A church leaders' letter against anti-Semitism to the churches of Canada, the Jewish community in Canada, and to all people of good will.
posted on Dec. 10, 2003
"Stepping beyond—entering into mission"
The Fourth Hobart Lecture on the Pastoral Care of the People of God
December 3, 2003, New York City
Canadian Christian leaders call for peace with justice in the Middle East
A tragic cycle of violence has once more engulfed the peoples of the Holy Land. As Canadian Christian leaders we mourn the loss of life in this conflict, for all life is a gift from God. Each death, each wounded person, is a grievous testimony to the...
posted on Jan. 4, 2001
Called to Full Communion: The Waterloo Declaration
Proposed Text to be considered by the National Convention of the Evangelical Lutheran Church in Canada and the General Synod of the Anglican Church of Canada Waterloo, Ontario 2001
posted on Jan. 1, 2001